This would be great! Thank you!
I have the DIN rail version of the Denkovi board and I have done some simple testing with it. I was able to change the target pin array in an actuator block to the DS2408 board and select a pin channel from A-H to get the corresponding relay on the board to activate. I ran a 20ft rj11 cable from the spark to a breakout board off of which I have 3 temp sensors plugged in and I am using the 12V, ground, and OneWire pins to both power the relays and control the DS2408 chip.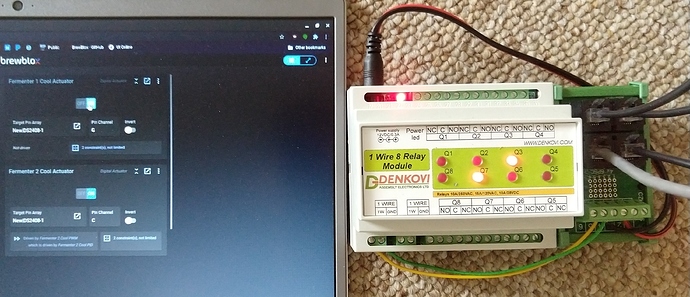 Great. The software changes are needed because the DS2408 was only used on our valve boards.
They have a motor between output 2/3 and 6/7, and 1/4 and 5/8 are used for feedback.
You can see it on your photo. The middle pins will change to change the direction of the motor.
By picking the right pin, you can probably already use it.
The software change will enable using all pins indepently.
Fantastic !

Hi Elco,
any news regarding the firmware enhancements for the Denkovi board support?
Best regards,
Steffen