Hi
Just wondering if anyone can explain the 0.5 overshoot on beer temp. This appears to have happened at the most active point in fermentation. Until then appears to have been holding temperature within 0.1 which was great.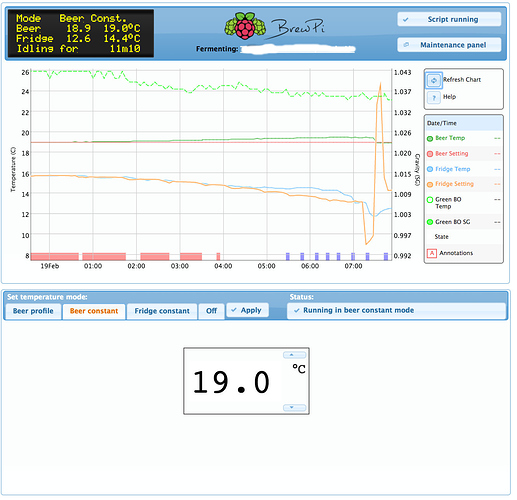 Settings below.
Beer-to-Fridge proportional gain (Kp) = 10 (It was set to 2, i think but changed this morning after reading another community post)
Beer-to-Fridge integral time constant (Ti) = 7200
Beer-to-Fridge derivative time constant (Td) = 1200
Maximum difference between fridge and beer set point (= output of PID) = 10
Beer-to-Fridge Input filter delay time = 18
Beer-to-Fridge Derivative filter delay time = 318 (again changed this morning based on a previous post think it was set to 4)
Cooler proportional gain (Kp) = 10
Cooler integral time constant (Ti) = 1800
Cooler derivative time constant (Td) = 200
Fermentation is in SS Brewtech Brewmaster Conical Fermentor 14GL, larder fridge(controlled fully by BrewPI), with tube heater, thermowell in fermenter with temp probe inserted.
I also have water chiller that i can run cooled water through the Fermentor coil controlled by Electronic Ball valve but don't use this at the moment for controlled cooling by BrewPI. However I ran it for about 10seconds to bring the temperature down from 19.5 to 18.9 just incase you are wondering about the quick temperature correction and also the spike in Fridge setting was as a result of my changes as mentioned above.
Any help with the above would be greatly appreciated. Worth saying that since I made the changes to beer fridge KP and also B2F derivative delay as above seems to be holding beer temp within 0.1 but just want to make sure I've made the right changes, as obviously i made these based on a previous community post and that individuals setup and graph data was slightly different to mine (0.3 overshoot v's 0.5).
Thanks
Joe