Hi,
I can't figure out the correct/optimized settings. I have a fridge and a 25W heater (headpad at the side of fridge).
Sometimes my setup seems fine and the temperature are kept at setpoint but sometimes my heater doesn't seems to heat - all though it says heating the temperature keep dropping… The heater (all though small) works fine "outside" brewpi.
Any settings or something obious I'm doing wrong?
-Kjetil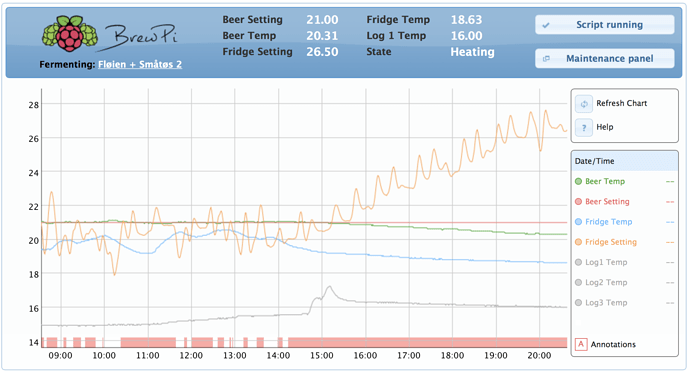 {
  "kind": "Control",
  "pids": [
    {
      "kind": "Pid",
      "name": "heater1pid",
      "enabled": true,
      "input": {
        "kind": "SensorSetPointPair",
        "sensor": {
          "kind": "TempSensorFallback",
          "onBackupSensor": false,
          "sensor": {
            "kind": "TempSensorDelegate",
            "name": "fridge",
            "delegate": {
              "kind": "OneWireTempSensor",
              "value": 18.625,
              "connected": true,
              "address": "286AE3C2070000C2",
              "calibrationOffset": 0
            }
          }
        },
        "setPoint": {
          "kind": "SetPointSimple",
          "name": "fridgeset",
          "value": 26.5
        }
      },
      "output": {
        "kind": "ActuatorPwm",
        "dutySetting": 100,
        "period": 10,
        "minVal": 0,
        "maxVal": 100,
        "target": {
          "kind": "ActuatorMutexDriver",
          "mutexGroup": {
            "kind": "ActuatorMutexGroup",
            "deadTime": 1800000,
            "waitTime": 1799963
          },
          "target": {
            "kind": "ActuatorDigitalDelegate",
            "name": "heater1",
            "delegate": {
              "kind": "ActuatorOneWire",
              "state": true,
              "pio": 1,
              "invert": false
            }
          }
        }
      },
      "inputError": -7.8789,
      "Kp": 120,
      "Ti": 600,
      "Td": 60,
      "p": 945.4688,
      "i": 0,
      "d": 3.75,
      "actuatorIsNegative": false
    },
    {
      "kind": "Pid",
      "name": "heater2pid",
      "enabled": true,
      "input": {
        "kind": "SensorSetPointPair",
        "sensor": {
          "kind": "TempSensorDelegate",
          "name": "beer2",
          "delegate": {
            "kind": "TempSensorDisconnected",
            "value": null,
            "connected": false
          }
        },
        "setPoint": {
          "kind": "SetPointSimple",
          "name": "beer2set",
          "value": null
        }
      },
      "output": {
        "kind": "ActuatorPwm",
        "dutySetting": 0,
        "period": 4,
        "minVal": 0,
        "maxVal": 100,
        "target": {
          "kind": "ActuatorMutexDriver",
          "mutexGroup": {
            "kind": "ActuatorMutexGroup",
            "deadTime": 1800000,
            "waitTime": 1799960
          },
          "target": {
            "kind": "ActuatorDigitalDelegate",
            "name": "heater2",
            "delegate": {
              "kind": "ActuatorNop",
              "state": false
            }
          }
        }
      },
      "inputError": null,
      "Kp": 10,
      "Ti": 600,
      "Td": 60,
      "p": 0,
      "i": 0,
      "d": 0,
      "actuatorIsNegative": false
    },
    {
      "kind": "Pid",
      "name": "coolerpid",
      "enabled": true,
      "input": {
        "kind": "SensorSetPointPair",
        "sensor": {
          "kind": "TempSensorFallback",
          "onBackupSensor": false,
          "sensor": {
            "kind": "TempSensorDelegate",
            "name": "fridge",
            "delegate": {
              "kind": "OneWireTempSensor",
              "value": 18.625,
              "connected": true,
              "address": "286AE3C2070000C2",
              "calibrationOffset": 0
            }
          }
        },
        "setPoint": {
          "kind": "SetPointSimple",
          "name": "fridgeset",
          "value": 26.5
        }
      },
      "output": {
        "kind": "ActuatorPwm",
        "dutySetting": 0,
        "period": 1200,
        "minVal": 0,
        "maxVal": 100,
        "target": {
          "kind": "ActuatorMutexDriver",
          "mutexGroup": {
            "kind": "ActuatorMutexGroup",
            "deadTime": 1800000,
            "waitTime": 1799956
          },
          "target": {
            "kind": "ActuatorTimeLimited",
            "minOnTime": 120,
            "minOffTime": 180,
            "maxOnTime": 65535,
            "state": false,
            "target": {
              "kind": "ActuatorDigitalDelegate",
              "name": "cooler",
              "delegate": {
                "kind": "ActuatorOneWire",
                "state": false,
                "pio": 0,
                "invert": false
              }
            }
          }
        }
      },
      "inputError": -7.8789,
      "Kp": 10,
      "Ti": 1800,
      "Td": 200,
      "p": 78.7891,
      "i": 0,
      "d": 0.9766,
      "actuatorIsNegative": true
    },
    {
      "kind": "Pid",
      "name": "beer2fridgepid",
      "enabled": true,
      "input": {
        "kind": "SensorSetPointPair",
        "sensor": {
          "kind": "TempSensorDelegate",
          "name": "beer1",
          "delegate": {
            "kind": "OneWireTempSensor",
            "value": 20.3125,
            "connected": true,
            "address": "28EEA4B616160113",
            "calibrationOffset": 0
          }
        },
        "setPoint": {
          "kind": "SetPointSimple",
          "name": "beer1set",
          "value": 21
        }
      },
      "output": {
        "kind": "ActuatorOffset",
        "target": {
          "kind": "SensorSetPointPair",
          "sensor": {
            "kind": "TempSensorFallback",
            "onBackupSensor": false,
            "sensor": {
              "kind": "TempSensorDelegate",
              "name": "fridge",
              "delegate": {
                "kind": "OneWireTempSensor",
                "value": 18.625,
                "connected": true,
                "address": "286AE3C2070000C2",
                "calibrationOffset": 0
              }
            }
          },
          "setPoint": {
            "kind": "SetPointSimple",
            "name": "fridgeset",
            "value": 26.5
          }
        },
        "reference": {
          "kind": "SensorSetPointPair",
          "sensor": {
            "kind": "TempSensorDelegate",
            "name": "beer1",
            "delegate": {
              "kind": "OneWireTempSensor",
              "value": 20.3125,
              "connected": true,
              "address": "28EEA4B616160113",
              "calibrationOffset": 0
            }
          },
          "setPoint": {
            "kind": "SetPointSimple",
            "name": "beer1set",
            "value": 21
          }
        },
        "useReferenceValue": false,
        "setting": 5.5,
        "achieved": -2.375,
        "minimum": -10,
        "maximum": 10
      },
      "inputError": -0.6914,
      "Kp": 8,
      "Ti": 7200,
      "Td": 1200,
      "p": 5.5313,
      "i": 0,
      "d": -0.0313,
      "actuatorIsNegative": false
    }
  ]
}