I'm using my BrewPi for the first time on a home-built fermentation chamber. Basically an extension chamber for a dorm fridge. The BP is doing a great job of keeping the temp exactly where it should be, but I'm worried about how often the fridge is kicking on. Some details:
5 gallons of beer with the beer probe in a thermowell inside the fermenter
Fridge probe is hanging down about a 1/4 way into the chamber, between the fridge and the fermenter
I have a small heater, but it hasn't kicked on since I've started this beer profile
I have a fan that sits in the fridge to help spread the air around evenly.
The fridge is set to cool at it's maximum "coldness" setting.
Here's a zoomed out image showing the brew so far: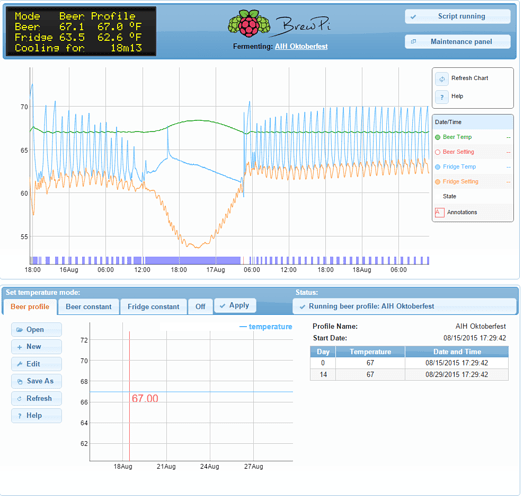 Here's a zoomed in image: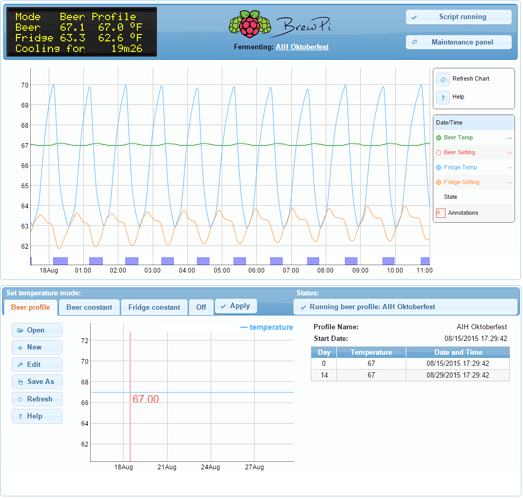 Maybe it's not a huge problem - the compressor is kicking on for 20minutes every hour on average. I just don't want to burn up my fridge if there's a small tweak that can be made in software. Or maybe 20minutes at a time over an hour isn't bad for the compressor?
Other details
Kp: 5
Ki: 0.25
Kd: -1.5