Hey guys,
Two days ago I updated the 6 Spark 4s I have running at the brewery. After the update, all of the blocks on one of the Sparks reverted from my designated names to "NEW". I thought it was a glitch with the update process and reconfigured the blocks.
Today I had to power cycle all the Sparks due to a different issue already being addressed in another post. After the power cycle all of the Sparks got into a Reboot Loop where they would power up for about 10-15 seconds and then reboot. Rinse and repeat. When on, they showed the temp sensor and PID settings on the display (as I have set it up) and the lights on the casing were flashing orange (if I remember properly). The ethernet icon was there, but with no IP address after it. When I watched my ethernet switch, I could see when the Sparks rebooted based on the (lack of) data transfer. I eventually uplugged my server (a raspberry pi) and all of the Sparks. I then turned the Sparks on, then the pi, and ran BREWBLOX-CTL UP. Everything is back up, but it was weird and troubling. Any thoughts?
Also following the power cycle of the Sparks, a different Spark has now reverted half of the blocks to "NEW".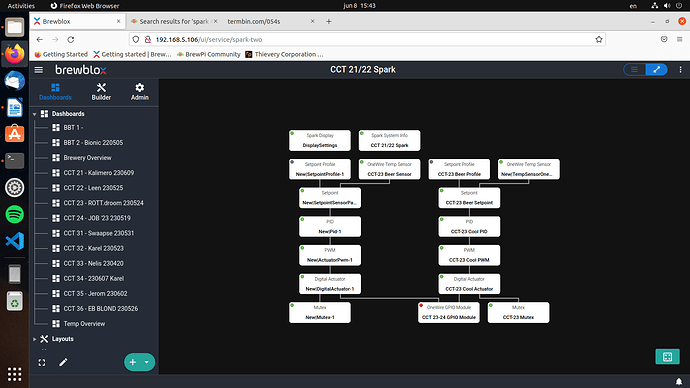 Any ideas what could be causing this?