I have been fermenting for about 3 days and everything was working normally. Beer temp stayed with 0.1F of set temp and the temp increase occured on schedule. Then, suddenly, without any changes, big temp swings and the fridge way overshooting. Granted, beer temp on swings +- .5F but you can clearly see the difference. Again, zero changed made to anything during this process.
I'm using an Arduino home built setup with default settings as they seemed to work well for every past brew. Chamber is an insulated enclosure similar to a Son of a Fermentation Chiller and a light bulb for heat and air from a fridge for cooling. Beer probe is in a thermowell in the beer. Fridge probe is in the middle of the chamber. Any thoughts?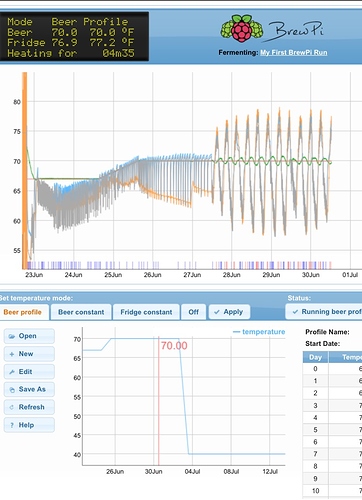 I noticed some weird looking stuff in my logs from today about the wifi checker? Then again, my computer that runs the Arduino is hard wired to the internet. Can anyone translate this and tell me if this might be part of the problem?