Standard fridge build.
I did a test with warm water and beer constant and it looked good so here's my first actual fermentation so far.
It was a little warm to start with but within my normal pitching range.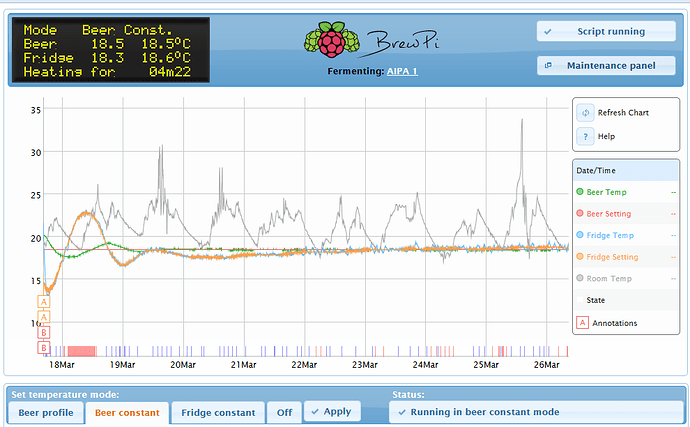 The beer temp is much better than my normal ambient - you can see the temp swings in the room when the sun comes out !
I had two concerns -
1 Is my compressor on for periods that are too short - should I be protecting it more
2. Does that initial curve zeroing in look good.
Obviously this is way better than before, I was just trying to make sure my parameters were sensible. They are the defaults of:
Beer to Fridge Kp 2, Ti 7200, Td 1200, max diff 10, input filter 18 secs, derivative delay 159 secs
Cooler Kp 10, Ti 1800, Td 200, PWM period 1200, min off 180, min on 120, input filter 18, derivative delay 159
Heater 1 Kp 10, Ti 600, Td 60, PWM period 4, input filter 18, derivative delay 159
dead time between heat / cool 1800
I know PID tuning is an art in itself and the control is way better than I'm used to, I just wanted any useful comments in case I can improve things.