I am having an issue that I can't get digital actuator blocks to connect to the GPIO module channels. When I set the channel in the actuator "state" always remains null.
Steps to reproduce are:
Add new block Digital Actuator
Set the channel to any channel on the OneWire GPIO Module
UI shows spinning white circle
Toggling to other state button (off or on) produces the same spinning white circle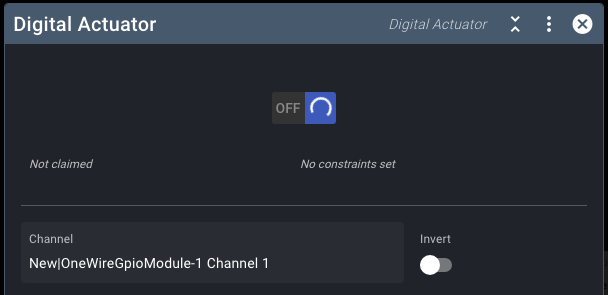 If I connect the digital actuator to a mock pin the "state" will be set, but as soon as I try to connect it back to a GPIO module channel the spinning white circle returns and the state goes to null.
I did a complete fresh install of all software and firmware
Spark 4 - firmware version bd82dd18 2023-07-29
Brewblox build date 2023-07-27T13:46:12089Z
Raspberry Pi 4B Rev.1.4 Debian (bookworm) 1:6.1.54-1+rpt2 (2023-10-05) aarch64
I was previously running a single Spark 4 for mashing and fermentation control, but now have recently purchased another to separate these processes. The problem started after I reconfigured all my OneWire temperature sensors and SSD control wires onto the two separate Spark 4s and tried to test the new setup.
The logs are here: https://termbin.com/guhe
I'm starting to think it may be a hardware related issue, but I am at a loss as to why two GPIO modules would have an issue at the same time.
I'd be grateful for any insights into how I can fix this.