Hi everyone,
I'm piecing together an expandable cooling fermentation system using a BrewPi Spark, SS Brewtech conicals and a homemade cooler/glycol unit. I have 90% of my parts on hand, and am about ready to start building it, but first wanted to get some feedback on my proposed schematic and make sure I wasn't missing anything or endangering myself. For now, I'll just have one fermenter until the new BrewPi firmware is available, but I am building for the future and look forward to the day when I can get the 2nd conical and use the BrewPi Spark to control both!

I built an electric brewery a couple years ago, so I have some basic electrical knowledge, but I still like to get input from others with more experience before starting to wire things up and turn the power on. I'm new to setting up a BrewPi Spark in general, but also to wiring SSR's to it and building a system like this.
At a high-level, I envision the system working like this. The cooler will be a reservoir for a cold (~25F) glycol/water mixture and will be chilled by an A/C unit evaporation coil (this is not in the diagram, but assume it exists). The A/C unit will be controlled by a separate temp control (see in the diagram below). Inside the cooler will be the evaporation coil and two pond pumps (one for each fermenter). Assuming the switch is on for the pump, each pump will be automatically turned off/on by the BrewPi based on the temp reading by the one-wire temp probe sensor in each fermenter. As the temperature rises beyond the set temperature on the BrewPi for that vessel, the pump and indicator light on the control panel will be turned on. Overall, its a fairly simple system, but I have a few specific questions to confirm before I move forward with building it. I've provided my diagram below, and the major questions I have are:
In general, does anything in the diagram look out of place or look like it will not work?

Should I assume that the power will come from the BrewPi Spark, to the SSRs, then through the switch/light and then off to the pump? I have no experience wiring anything up like this, so wanted to check.

For the pumps, can I just cut the plugs off and wire them directly off the lights?
Here are the switches - http://www.amazon.com/gp/product/B0054UFAI8?psc=1&redirect=true&ref_=oh_aui_detailpage_o03_s00
Here are the lights - http://www.amazon.com/gp/product/B00HU06MWI?psc=1&redirect=true&ref_=oh_aui_detailpage_o04_s00
Here are the SSRs - http://www.amazon.com/gp/product/B009AQNXT0?psc=1&redirect=true&ref_=oh_aui_detailpage_o09_s00
Here is the pond pump I bought: http://www.amazon.com/gp/product/B0018X2XT4?psc=1&redirect=true&ref_=oh_aui_detailpage_o09_s00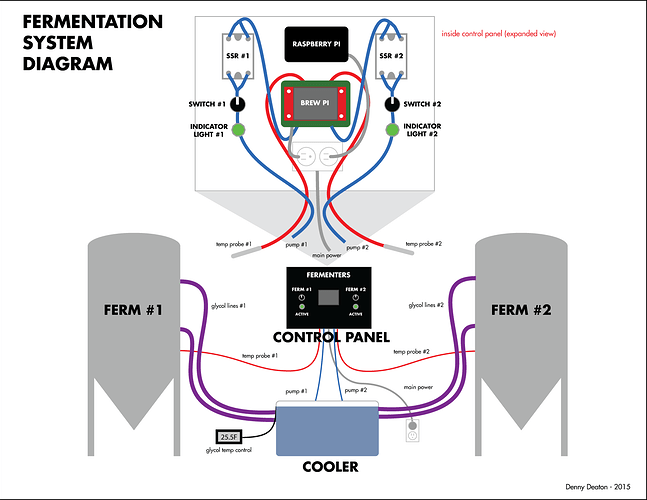 Thanks!