Hi,
I've been using the new Brewpi since before the update to the internal state machine. Since the update (0.4.3) I'm seeing quite a big of overshoot when the initial temperature is set and on subsequent changes. Any ideas what changes I need to make to the PID values for the various actuators? Currently using all defaults.
In the example below, I start at 19C, raise to 20 after 4 days, then subsequently raise to 20.2 and 20.4 to try and minimise the swing.
Environment
Fridge with ceremic 40W heating bar.
Graph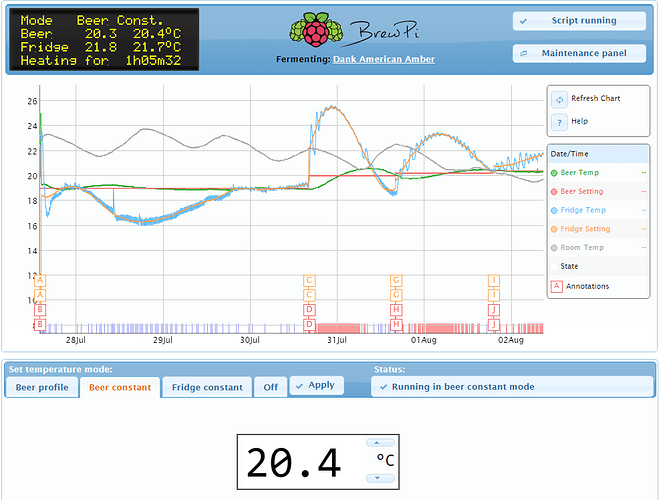 Configuration
{
  "kind": "Control",
  "pids": [
    {
      "kind": "Pid",
      "name": "heater1",
      "enabled": true,
      "setPoint": {
        "kind": "SetPointSimple",
        "name": "fridgeset",
        "value": 9
      },
      "inputSensor": {
        "kind": "TempSensorFallback",
        "onBackupSensor": false,
        "sensor": {
          "kind": "TempSensor",
          "name": "fridge",
          "sensor": {
            "kind": "OneWireTempSensor",
            "value": 23.25,
            "connected": true,
            "address": "280FD4730600008A",
            "calibrationOffset": 0
          }
        }
      },
      "inputError": 14.25,
      "Kp": 10,
      "Ti": 600,
      "Td": 0,
      "p": -142.5,
      "i": 0,
      "d": 0,
      "actuatorIsNegative": false,
      "outputActuator": {
        "kind": "ActuatorPwm",
        "value": 0,
        "period": 4,
        "minVal": 0,
        "maxVal": 100,
        "target": {
          "kind": "ActuatorMutexDriver",
          "mutexGroup": {
            "kind": "ActuatorMutexGroup",
            "deadTime": 1800000,
            "waitTime": 0
          },
          "target": {
            "kind": "ActuatorPin",
            "state": false,
            "pin": 10,
            "invert": false
          }
        }
      }
    },
    {
      "kind": "Pid",
      "name": "heater2",
      "enabled": true,
      "setPoint": {
        "kind": "SetPointSimple",
        "name": "beer2set",
        "value": null
      },
      "inputSensor": {
        "kind": "TempSensor",
        "name": "beer2",
        "sensor": {
          "kind": "OneWireTempSensor",
          "value": 22.3125,
          "connected": true,
          "address": "2814A273060000D8",
          "calibrationOffset": 0
        }
      },
      "inputError": null,
      "Kp": 10,
      "Ti": 600,
      "Td": 0,
      "p": 0,
      "i": 0,
      "d": 0,
      "actuatorIsNegative": false,
      "outputActuator": {
        "kind": "ActuatorPwm",
        "value": 0,
        "period": 4,
        "minVal": 0,
        "maxVal": 100,
        "target": {
          "kind": "ActuatorMutexDriver",
          "mutexGroup": {
            "kind": "ActuatorMutexGroup",
            "deadTime": 1800000,
            "waitTime": 0
          },
          "target": {
            "kind": "ActuatorNop",
            "state": false
          }
        }
      }
    },
    {
      "kind": "Pid",
      "name": "cooler",
      "enabled": true,
      "setPoint": {
        "kind": "SetPointSimple",
        "name": "fridgeset",
        "value": 9
      },
      "inputSensor": {
        "kind": "TempSensorFallback",
        "onBackupSensor": false,
        "sensor": {
          "kind": "TempSensor",
          "name": "fridge",
          "sensor": {
            "kind": "OneWireTempSensor",
            "value": 23.25,
            "connected": true,
            "address": "280FD4730600008A",
            "calibrationOffset": 0
          }
        }
      },
      "inputError": 14.25,
      "Kp": 10,
      "Ti": 1800,
      "Td": 0,
      "p": -142.5,
      "i": 0,
      "d": 0,
      "actuatorIsNegative": true,
      "outputActuator": {
        "kind": "ActuatorPwm",
        "value": 100,
        "period": 1200,
        "minVal": 0,
        "maxVal": 100,
        "target": {
          "kind": "ActuatorMutexDriver",
          "mutexGroup": {
            "kind": "ActuatorMutexGroup",
            "deadTime": 1800000,
            "waitTime": 0
          },
          "target": {
            "kind": "ActuatorTimeLimited",
            "minOnTime": 120,
            "minOffTime": 180,
            "maxOnTime": 65535,
            "state": false,
            "target": {
              "kind": "ActuatorPin",
              "state": false,
              "pin": 11,
              "invert": false
            }
          }
        }
      }
    },
    {
      "kind": "Pid",
      "name": "beer2fridge",
      "enabled": true,
      "setPoint": {
        "kind": "SetPointSimple",
        "name": "beer1set",
        "value": 19
      },
      "inputSensor": {
        "kind": "TempSensor",
        "name": "beer1",
        "sensor": {
          "kind": "OneWireTempSensor",
          "value": 24.5625,
          "connected": true,
          "address": "28389573060000C6",
          "calibrationOffset": 0
        }
      },
      "inputError": 5.7148,
      "Kp": 2,
      "Ti": 7200,
      "Td": 0,
      "p": -11.4297,
      "i": -0.0078,
      "d": 0,
      "actuatorIsNegative": false,
      "outputActuator": {
        "kind": "ActuatorSetPoint",
        "targetSetPoint": {
          "kind": "SetPointSimple",
          "name": "fridgeset",
          "value": 9
        },
        "targetSensor": {
          "kind": "TempSensor",
          "name": "fridge",
          "sensor": {
            "kind": "OneWireTempSensor",
            "value": 23.25,
            "connected": true,
            "address": "280FD4730600008A",
            "calibrationOffset": 0
          }
        },
        "referenceSetPoint": {
          "kind": "SetPointSimple",
          "name": "beer1set",
          "value": 19
        },
        "output": -10,
        "achieved": 4.25,
        "minimum": -10,
        "maximum": 10
      }
    }
  ]
}