Hi,
Fresh setup of a fridge with newly installed BrewPi, Photon and Tilt integration.
Sadly it doesnt seem as the fridge will start, even though the temperature is way to high. It's just idling.
I dont have any heater installed yet.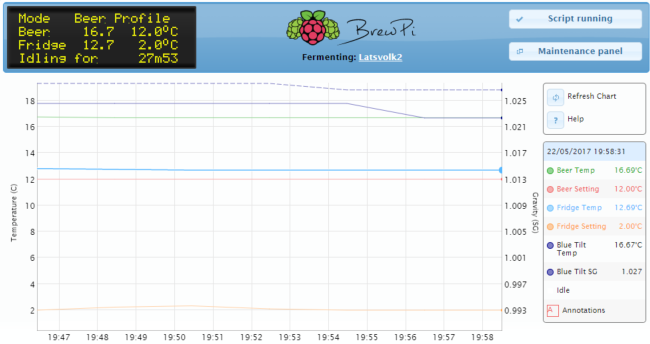 I have tried an factory reset of the controller, but it didnt seem to change anything.
Where to start the troubleshooting process?
    {
  "kind": "Control",
  "pids": [
    {
      "kind": "Pid",
      "name": "heater1",
      "enabled": true,
      "setPoint": {
        "kind": "SetPointSimple",
        "name": "fridgeset",
        "value": 13
      },
      "inputSensor": {
        "kind": "TempSensorFallback",
        "onBackupSensor": true,
        "sensor": {
          "kind": "TempSensor",
          "name": "beer1",
          "sensor": {
            "kind": "OneWireTempSensor",
            "value": 16.8125,
            "connected": true,
            "address": "28B713C2070000EA",
            "calibrationOffset": 0
          }
        }
      },
      "inputError": 4.0352,
      "Kp": 50,
      "Ti": 600,
      "Td": 60,
      "p": -201.7578,
      "i": 0,
      "d": 1.9531,
      "actuatorIsNegative": false,
      "outputActuator": {
        "kind": "ActuatorPwm",
        "value": 0,
        "period": 4,
        "minVal": 0,
        "maxVal": 100,
        "target": {
          "kind": "ActuatorMutexDriver",
          "mutexGroup": {
            "kind": "ActuatorMutexGroup",
            "deadTime": 1800000,
            "waitTime": 0
          },
          "target": {
            "kind": "ActuatorPin",
            "state": false,
            "pin": 16,
            "invert": false
          }
        }
      }
    },
    {
      "kind": "Pid",
      "name": "heater2",
      "enabled": true,
      "setPoint": {
        "kind": "SetPointSimple",
        "name": "beer2set",
        "value": null
      },
      "inputSensor": {
        "kind": "TempSensor",
        "name": "beer2",
        "sensor": {
          "kind": "OneWireTempSensor",
          "value": 14.375,
          "connected": true,
          "address": "28E347C207000092",
          "calibrationOffset": 0
        }
      },
      "inputError": null,
      "Kp": 10,
      "Ti": 600,
      "Td": 60,
      "p": 0,
      "i": 0,
      "d": 0,
      "actuatorIsNegative": false,
      "outputActuator": {
        "kind": "ActuatorPwm",
        "value": 0,
        "period": 4,
        "minVal": 0,
        "maxVal": 100,
        "target": {
          "kind": "ActuatorMutexDriver",
          "mutexGroup": {
            "kind": "ActuatorMutexGroup",
            "deadTime": 1800000,
            "waitTime": 0
          },
          "target": {
            "kind": "ActuatorNop",
            "state": false
          }
        }
      }
    },
    {
      "kind": "Pid",
      "name": "cooler",
      "enabled": true,
      "setPoint": {
        "kind": "SetPointSimple",
        "name": "fridgeset",
        "value": 13
      },
      "inputSensor": {
        "kind": "TempSensorFallback",
        "onBackupSensor": true,
        "sensor": {
          "kind": "TempSensor",
          "name": "beer1",
          "sensor": {
            "kind": "OneWireTempSensor",
            "value": 16.8125,
            "connected": true,
            "address": "28B713C2070000EA",
            "calibrationOffset": 0
          }
        }
      },
      "inputError": 4.0352,
      "Kp": 10,
      "Ti": 1800,
      "Td": 200,
      "p": -40.3516,
      "i": 0,
      "d": 1.2109,
      "actuatorIsNegative": true,
      "outputActuator": {
        "kind": "ActuatorPwm",
        "value": 39.1406,
        "period": 1200,
        "minVal": 0,
        "maxVal": 100,
        "target": {
          "kind": "ActuatorMutexDriver",
          "mutexGroup": {
            "kind": "ActuatorMutexGroup",
            "deadTime": 1800000,
            "waitTime": 0
          },
          "target": {
            "kind": "ActuatorTimeLimited",
            "minOnTime": 120,
            "minOffTime": 180,
            "maxOnTime": 65535,
            "state": false,
            "target": {
              "kind": "ActuatorPin",
              "state": false,
              "pin": 17,
              "invert": false
            }
          }
        }
      }
    },
    {
      "kind": "Pid",
      "name": "beer2fridge",
      "enabled": true,
      "setPoint": {
        "kind": "SetPointSimple",
        "name": "beer1set",
        "value": 13
      },
      "inputSensor": {
        "kind": "TempSensor",
        "name": "beer1",
        "sensor": {
          "kind": "OneWireTempSensor",
          "value": 16.8125,
          "connected": true,
          "address": "28B713C2070000EA",
          "calibrationOffset": 0
        }
      },
      "inputError": 4.0352,
      "Kp": 0,
      "Ti": 0,
      "Td": 0,
      "p": 0,
      "i": 0,
      "d": 0,
      "actuatorIsNegative": false,
      "outputActuator": {
        "kind": "ActuatorSetPoint",
        "targetSetPoint": {
          "kind": "SetPointSimple",
          "name": "fridgeset",
          "value": 13
        },
        "targetSensor": {
          "kind": "TempSensor",
          "name": "fridge",
          "sensor": {
            "kind": "TempSensorDisconnected",
            "value": null,
            "connected": false
          }
        },
        "referenceSetPoint": {
          "kind": "SetPointSimple",
          "name": "beer1set",
          "value": 13
        },
        "output": 0,
        "achieved": null,
        "minimum": -10,
        "maximum": 10
      }
    }
  ]
}