Hey Guys, I'm new to these forums, but I just picked up my BrewPi setup recently complete with all sensors and SSRs to build out my new fermentation chamber. I managed to pick up a frigidaire glass-door beverage center (FFBC46F5LS) for a really good deal off of craig's list, but now that I'm looking at the wiring, I'm beginning to get a little intimidated. I'm a software engineer by profession and I never really got too much into electrical (other than building my own computers), so when I realized that the fridge I got has a digital readout / temperature control board instead of the usual rotary switch style thermostat - I began to feel like I might have bit off more than I can chew.
Attached is a picture of the basic wiring diagram: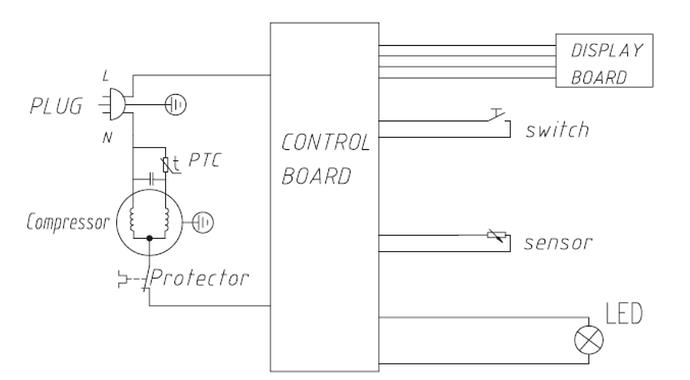 The fundamental challenge I'm mulling over is how the control board pictured changes the steps shown in the fridge hacking guide. I know others have hacked fridges like this, but from what I can find, they jumpered the compressor control switch on the control board and then they made a switchable cord - I'm thinking I could do the same, but it'd be a shame to lose the light and temperature readout since those would only show when the compressor was running. Also, while I'm not an electrical expert, I feel like switching from completely off to on and running has got to be a bigger current spike - I'm wondering if that would have any impact on the system longevity-wise.
I'm open to suggestions, and ideally, if someone has already tackled a fridge like this and can shed any light on how best to tackle this hack.
Thanks,
Mike