I have modded a new fridge and just can't get BrewPi to come to a stable temperature. I've read the wikipedia article on PIDs and most postings here that I could find but I still have difficulties coming to terms with the different values in the settings, especially the scale and impact of Ti and Td.
Ti and Td are seconds, as far as I understood. This confuses me, because a higher value then means a longer time, but for Ti should also lead to quicker changes and for Td lead to more damping, right?
And then again there are some postings in here where values for Ti and Td around 1-3 are discussed, which is probably for a different version of BrewPi.
Here's a screenshot of my current brew: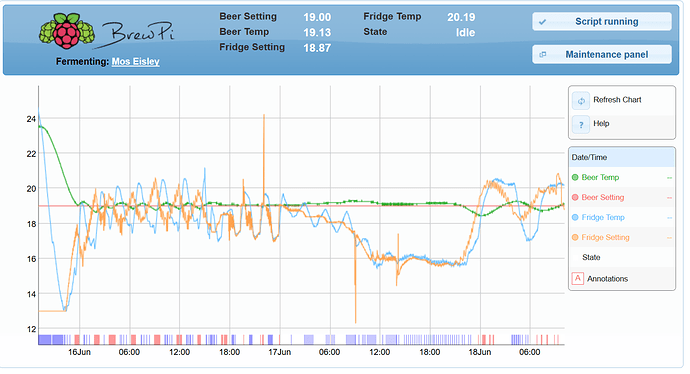 The first third are standard brewpi settings. Also, my heater was sitting under the beer and having a lot of lag on fridge temp. I moved the heater nearer to the fan and twiddled with the Kp, Ti & Td settings. (Mostly setting Ti & Td to zero and seeing what happens).
When the fridge temp drops you can see the main fermentation kicking in. I then increased Ti and Td to get rid of the oscillations, which worked fine until the beer temp dropped.
Current settings are:
Kp 3
Ti 7200
Td 600
I also don't quite get what the input filtering accomplishes and what values I should set it to.
If would very much appreciate if someone could go to the effort to explain sensible magnitudes of values to me and what those do, and also what decreasing and increasing these values actually means. Or point me to a good article or posting.

Thanks in advance!