Ok, I have been working for 2 months on/off on setting up the BrewPI software, Hacking an Air Conditioner and building a project box to house the wiring for everything. I am having a real hard time understanding what to do in the BrewPI Maintenance Panel to complete my setup. Could you help give me some specifics on this?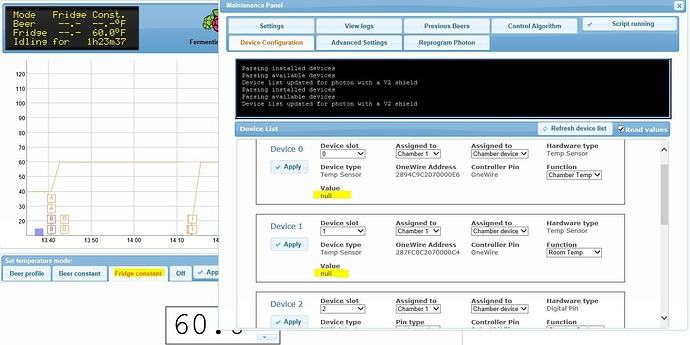 I have the following configuration of hardware:
I am trying to control the on/off glycol pump for a 5 gal Corny keg of water ran through a Cool Jacket. Also, trying to control a Fermwrap under that on the Corny.
Cooler (full of water for testing)
Two aquarium pumps (1 for glycol to fermenter, 1 for recirculation within cooler only when A/C is on)
1 Inkbird controller fixed temperature of Cooler bath (currently set at 42 due to only water - still test for leaks prior to adding glycol.)
2 Temperature OneWire probes from BrewPI
1 BrewPI Spark installed with latest software in May '16
1 Raspberry 3 configured WIFI and latest software in May '16
2 SSR's (1 for switching cooling outlet - aquarium pump, 1 for switching heating outlet - fermwrap)
1 A/C - 5,000 BTU plugged into InkBird
Wiring:
I have the +'s on the SSR's in the 1st & 3rd spots on the Spark. The -'s are in the 0 and 2nd spots on the Spark.
I have each temperature Onewire probe plugged into the the first two spots on the Sparks other side.