Just got my BrewPi set up, and running a test now on an SS concial filled with 23 litres of PBW (it needed a clean anyway).
For my first test, I decided to try and ramp down from 28C to 18.5C - this is somewhat similar to what I will be doing on brew days, although I will probably start a little lower (23 C or so).
Setup is a larder fridge with the 7 gal conical, beer probe in thermowell with a 45 W tube heater at the bottom of the fridge. Fan runs constantly, all BrewPi settings are stock and the software was installed last week (sorry - I couldn't find a way to retrieve the version - is there an easy way to do this?).
Here is the graph from my first 12 hours or so: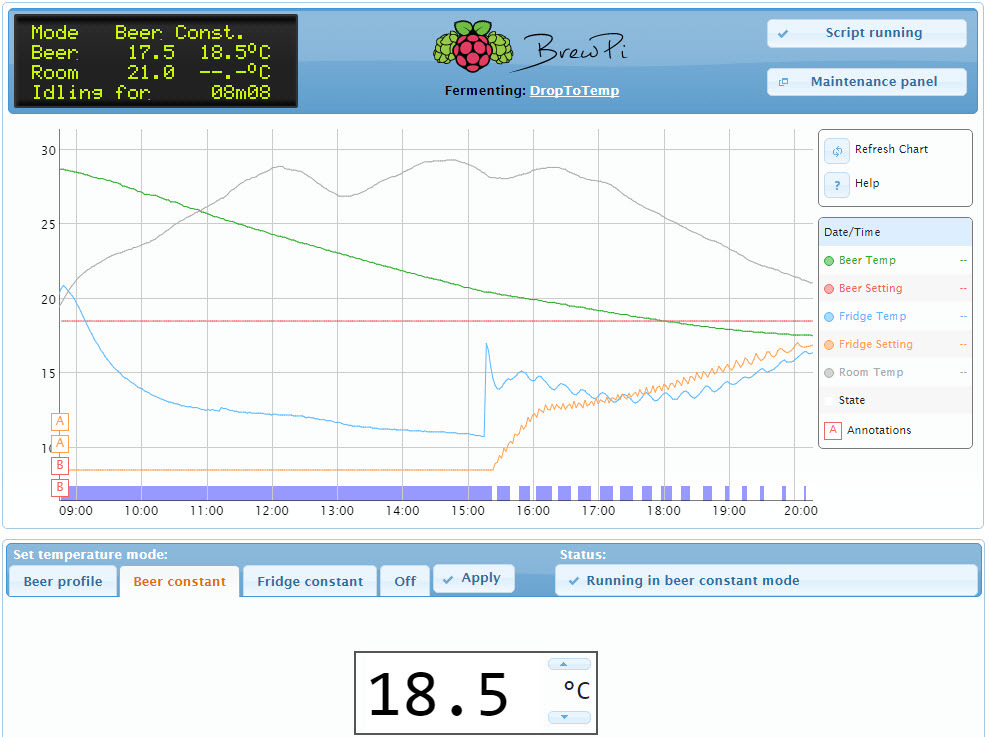 The issue is the big (in BrewPi terms) overshoot of a full 1 degree C. The big spike in fridge temp is when I opened the door to check the fan, and fridge temps never seem to be the same after that - but I think this might be coincidental, as beer temp was nearing target at this point. The thing that I find curious is that the fridge target temp never gets above the beer temp, even though the beer has spent some hours below its target.
Any ideas, or is this something that will just improve with time as the algorithm "learns"? I would imagine that my setup is a very standard one.