Can anyone help me out with adjusting my PID configuration for a fermentation chamber? It is a chest freezer with a reptile heating tape. What I've been seeing is something like the following where the system yo-yos between running the heating and cooling element (maintaining a cold crash in this case):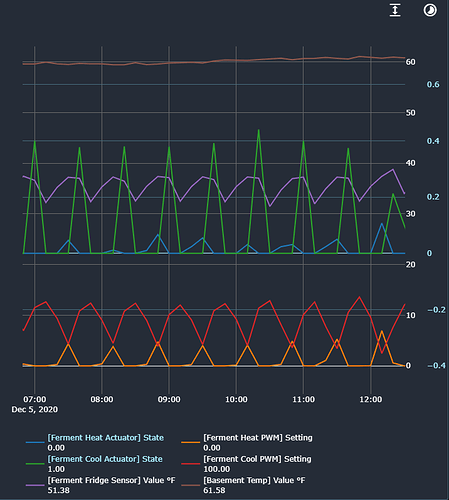 Its less pronounced when setting for beer temperature because of the thermal mass involved, but it still feels like its wearing out the freezer compressor more than it should. The brown line there is an extra probe I have for the ambient temperature which the PID doesn't use but I think would be really cool if it could take that into account.
I started out with the out-of-box wizard then tried reading through the wiki page and taking what I thought would be corrective action, but it seems I simply don't get it.
My PID settings are:
Ferment Cool:
Kp: -27.78F
Ti: 6h
Td: 30m
Ferment Heat:
Kp: 55.56
Ti: 6h
Td: 30m
Ferment Mutex: 5m
Does anyone have recommendations on how to fix this?