I'm new to BrewPI/Brewblox and I'm in the process of getting a fridge conversion and HLT, Boil kettle temperature control up and running. While working to tune the various PID loops I've noticed that there is a consistent mismatch between the PWM setting and PWM value when the PWM setting initially drops away from 100%. The PWM value drops very quickly to a value that is much lower than the PWM setting and remains there for a period of time that appears to be related in some way to the PID parameters. After this period of time has elapsed, the PWM value starts to closely track the PWM setting again.
The attached graph, which is for fridge heating, shows an example of the behavior I'm trying to describe. The same thing happening with the HLT and Boil kettle controllers.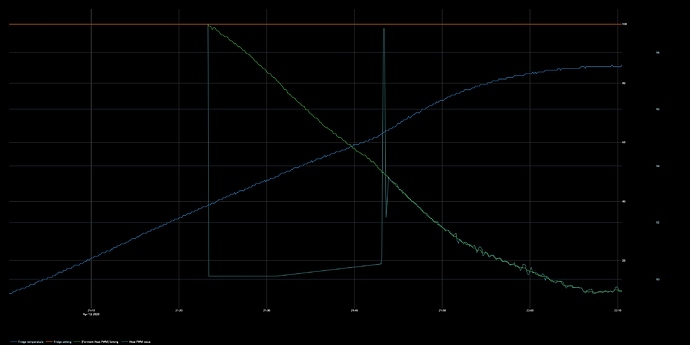 I have a few questions:
Is this intended behavior? If it is, what is its purpose?
If it's not intended, could it be having a negative impact on control loop performance?
Here's a log file in case it's of help:
https://termbin.com/hkkmw
Cheers,
John