Hello Bob and Elco,
I'm starting a dedicated thread for this (yesterday we were discussing this on the Release Notes thread).
I'd like to start off with full disclosure that I'm not using Brewpi for brewing beer. I'm actually using it to control the temperature of our bread starter in my small bakery. Its an almost identical process, but the duration is shorter so typically I would require a batch of bread starter to be cooled from 85C and maintained at a temperature of 35-40C for a total period of 14h-16h. Not more than that, unlike beer. I hope this does not upset anyone, I love beer but I don't brew it but I love making bread and experimenting with improving our starter quality which is super temperature dependent. So I hope I could still continue to get support

With that out of the way, here's where I'm at. I ran a 16h test yesterday to test if my fridge can hold constant temperature at 30C. Attaching the settings and graphs. My concerns are that the temperature overshoots are quite drastic and the filtering of the sensor seems a bit delayed too. Keen on hearing how to fix this to get a more stable temperature behaviour. Let me know if you need more info.
Graph: Temperature Only

Graph: All Relevant Metrics
Fridge Setting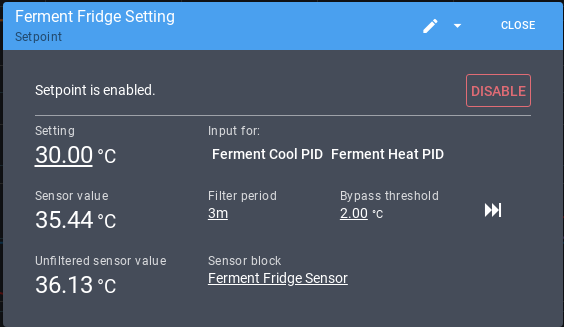 Cool PID

Heat PID