Had a bit of a weird anomaly yesterday, where my system's refrigeration ability seems to have abruptly disappeared for no apparent reason. My setup is a slightly more sophisticated version of the classic "Son of a Fermentation Chamber" system, but instead of loading a cold chamber with ice, I use a mini-fridge for the cold chamber (which is not managed by the Spark 3). The system has always been a bit underpowered, but it has generally worked fine for maintaining lager temperatures as long as I use another fridge to cold crash wort down to the desired temperature.
Last night before going to bed I noticed that my beer temperature was 0.4 degrees C higher than the setpoint, which was unusual. I then noticed that the chamber temperature and fridge temperature where strangely high as well. After reopening my computer, I discovered that my cold chamber had pretty much completely lost refrigeration capabilities for the better part of the day. In the graph below, the red line shows the temperature in the cold chamber. Up until midnight on July 17th it shows a fairly typical duty cycle for an active fermentation. Then, suddenly, just before midnight, and in the middle of a compressor cycle it appears to have suddenly turned off, there are a few strange fluctuations (which could result from a makeshift glycol system in that chamber transferring heat around) but the temperature rapidly rises until around 9:30 am on the 17th when the compressor appears to kick in again for at least part of a cycle. At this point the beer temperature is steadily rising and the cooling fan PWM is at its max of 60%.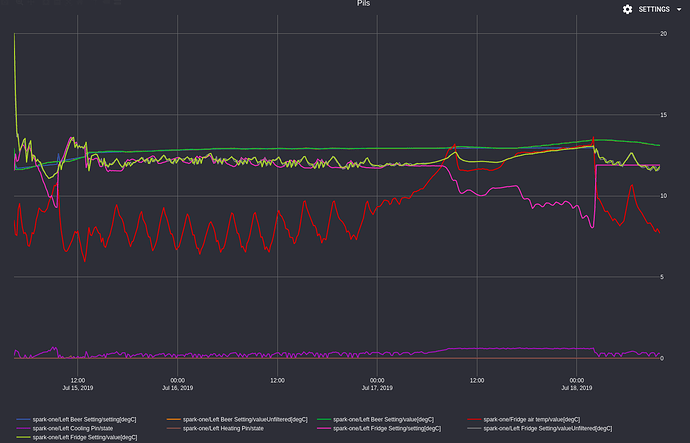 I finally notice the problem around 2am on the 18th but couldn't figure out what had caused it. The compressor appeared to the running and transferring heat (hot evaporator coils on back). There were no doors open or leaks. The "Freezer" corner needs deicing, but that doesn't seem like it would create such a sudden problem. The glycol loop wasn't leaked and seemed to be functioning normally.
Ultimately, because I needed to get to sleep I just threw a bunch of ice in the cold chamber and set the system to fridge constant to avoid having to worry about integrator problems from a day of unresponsiveness. When I woke up this morning, other than very long duty cycles trying to get the fridge back down to the right temperature things seem much more normal.
Any ideas what might have caused this? In the long run, I know I need to upgrade my system to something with more cooling power; however, when I overstress this system I'll usually notice the fridge gradually lose control of the cold chamber, never anything as sudden as this.
For context, here some (old) pictures of the system in question. The second one is more representative of the current state of the system (just imagine more ice buildup on the freezer part).