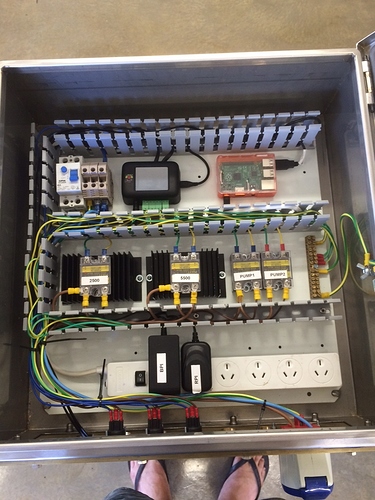 See uploaded above a dodgy pic of my control panel build. I have done some neatening up since then. I am waiting on the covers for my cable ducting to arrive. You cannot see the cable panel at the bottom, but I am also waiting on cable glands to install here. I've used some adhesive magnetic tape to secure my Bpi and Rpi. This has worked nicely for purposes of easy removal. @Elco I reckon you might need to start thinking about case modifications that will allow easy panel mounting with some bolts?
I'm testing the wiring this weekend, then hopefully setting up software to begin attempting to heat some water with my 2500W element. I'm waiting for Brewpi software to work better before cutting a hole in my 114L Blichman for my 5500W element to go in. I'll have to keep using gas until the software is better.
Once the software is ready, I have two valves and a controller board to add into the mix to control the flow of water through my heat exchanger. I have a weird setup; multiple BIAB pots with different sized elements, and utilise a CCFC as a heat exchanger to constantly recirculate and heat or cool wort appropriately.