I've been running 0.4.1 during a week+ of conditioning a pale ale. Partly this is so I can monitor the new firmware without worrying about a fermentation going weird on me. I suspect I've found a bug, possibly limited just to plotting code but possibly more fundamental.
Please refer to the two screenshots. Screenshot #1 is direct from the BrewPi web page, screenshot #2 is an Excel chart of the same data available via BrewPi's "Previous Beers" CSV download. The attached file is the CSV as downloaded from my BrewPi. I had to remove rows from the top and bottom of the file in order to meet the max upload size criteria enforced by Disqus, but both periods of weird plotting, described below, are contained in the CSV.
You can see two places in the BrewPi chart where logging appears to have stopped for ~12 hours. The first occurrence began at Dec 15, 23:53:09. The second occurrence began at Dec 19, 23:59:53. The similarity in the time of occurrence of these two gaps seems more than coincidental, perhaps a cron job is to blame. When hovering the mouse over the web chart there is a complete loss of telemetry; no data points anywhere from the start of the gap to its end. This screencast shows what I mean by a lack of data points.
While the gaps are weird on their own, here's the kicker: the CSV file has no gaps during those times! There was some anomalous activity before and during those times, but not a lack of telemetry. Before the first gap the cooling periods averaged 3 minutes, and resumed that average afterwards. But just before gap #1 there were several non-standard cooling cycles: 9.5-min, 17-min, 6.5-min, 5-min, and 4-min, before the cooling cycles settled back to 3 mins. The (false) gap shown on the web chart started around the end of the 17-min cooling cycle.
Prior to gap #2 I lengthened the algorithm's minimum ON and OFF times for the cooler, and the cooling cycles averaged 5 mins for about 8 hours. But a longer-than-normal cooling cycle again happened just before gap #2, and again the cooling cycles went back to normal during the time the web plot falsely shows a gap in telemetry.
Both gaps were preceded by unexpected rises in fridge temp, which explains the longer-than-normal cooling cycles but the reason for the rise in fridge temp escapes me! I wasn't opening the door of my freezer, that's for sure.
I also draw attention the line #16459 of the CSV file, which occurs after the two gap periods. That line has 62 consecutive [NUL] characters (ASCII Hex "00"), and then the line ends with a normal data point. But not 30 seconds after the prior point; instead it's about 2 minutes later.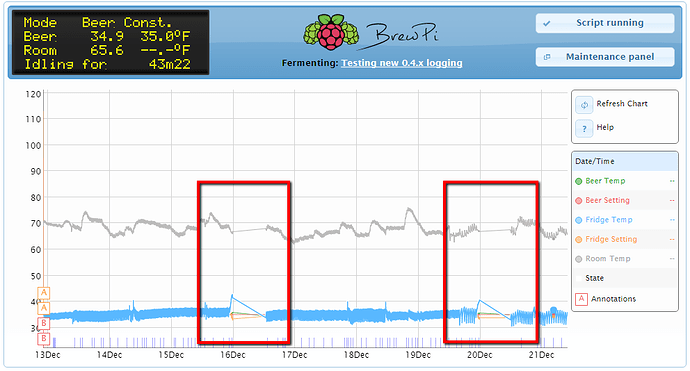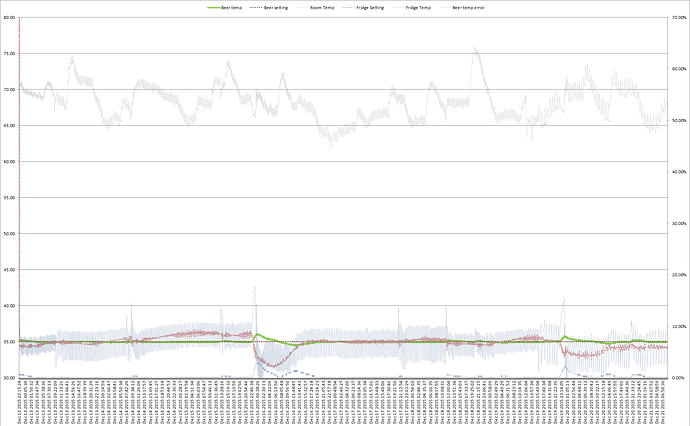 Testing new 0.4.x logging.csv (993.8 KB)