I've hacked my fridge, installed 2 temperature sensors, fired up both the raspberry pi and the spark…both are connected to 2a power supplies and both are connected with a USB cable…
The temperature sensors are detected but I cannot install them by assigning a slot and assigning to Chamber device or Beer1 and hitting Apply.
What am I doing wrong?
See screenshots and script displayed.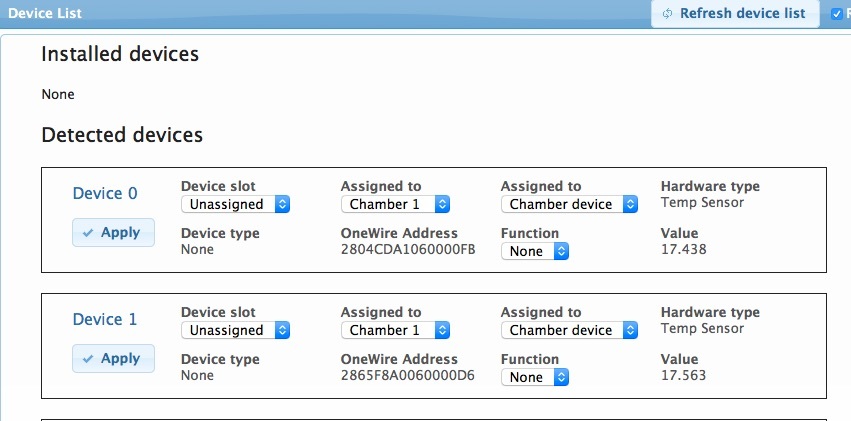 No installed devices found
Parsing available devices
Device list updated for null with a null shield
Device config command sent, U:{"i":"0","c":"1","b":"1","f":"0","h":"2","a":"2804CDA1060000FB"}
No installed devices found
Parsing available devices
Device list updated for null with a null shield
Device config command sent, U:{"i":"1","c":"1","b":"0","f":"0","h":"2","a":"2865F8A0060000D6"}
No installed devices found
Parsing available devices
Device list updated for null with a null shield
Device config command sent, U:{"i":"-1","c":"1","b":"1","f":"0","h":"2","a":"2804CDA1060000FB"}
No installed devices found
Parsing available devices
Device list updated for null with a null shield
Device List
Read values