Hello all,
I tried searching the forums for this but could not find the same issue. Also, I realize that I am using the old systems so I understand if you want me to go and just buy the new hardware

The issue: when my fridge cuts in, I get a bump on the in-beer sensor reading.
I am using an Sainsmart Uni (Arduino knockoff), 0.2.10 rev c
I wired my own bus
Arduino -> splitter to room temp and 3M cable to fridge.
fridge -> 1.5M internal routing to jack -> splitter -> 1.5M cable to fridge sensor, 3M cable to in-beer sensor
The cabling is the ones already attached to the sensors, plus cat 5e. The jacks are 1/4" Stereo headphone jacks. I always make sure there is no power when I plug/unplug since I'm worried about a short.
My sensors work fine, except there is interference on the beer sensor only. In the image, you can see that when the fridge cuts in i get a bump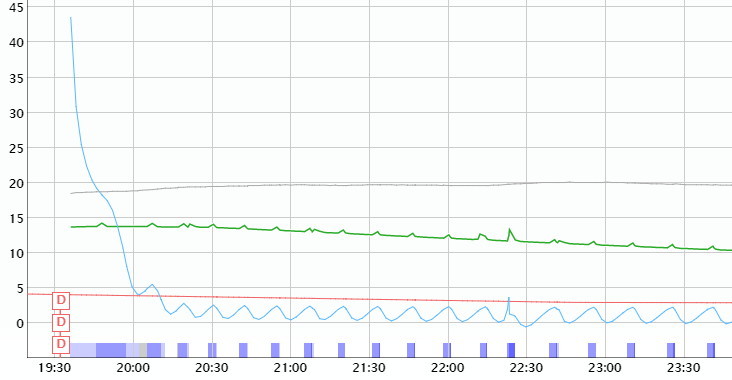 I tried a little experiment - I wrapped my arduino<->fridge cable around the power cable of the fridge. When I do that, and the fridge cuts in, I get terrible interference on both sensors up-stream.
This baffles me, but I'm not an electrical engineer - this is a digital bus, so I would expect interference to give me garbage / broken packets. Is it possible that interference on the line modifies how the IC works, e.g., voltage spikes?
My next question is - how can I go about improving the shielding on that beer sensor wire to prevent this issue? It really isn't a big deal since the fridge catches up and does a good job anyway, but it is a nuisance.
Thank you very much for reading!!