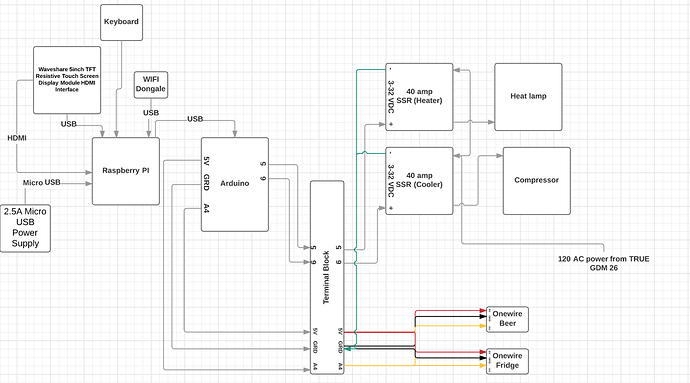 Greetings fellow members. so I have searched the community up and down looking for resolution to my problem. I have gotten close a couple of times with post like this and thisand this but alas I am unable to resolve my issue.
Background:
I am using a Brewpi2 (Canakit) with an ardruino uno R3 connected in the embedded schematic
Problem:
When I set brewpi to run in either beer constant or fridge constant the arduino does not seem to send the correct signal to the SSRs. The SSRs are either always on or always off depending on the setting for inverted or not inverted. The onewire probes are reporting accurately and I am getting good data log. Dc voltage to the SSR control side reads just under 5 VDC. For the AC power side, I read 120 VAC when SSR light is on and 0 VAC when SSR light is off, indicating the SSRs are switching when the inverted/not inverted setting is toggled.
I am using the correct HEX file (10 I think) I am completely miffed.
I understand this set up is no longer supported, please accept my apologies in advance if this has already been addressed else ware, I am just hoping there is enough still using the old setup that they might have a solution to this issue.
Thank you in advance to any help.
Cheers
Travis