Elco,
Thanks for sending a replacement expansion board quickly. It's greatly appreciated. I connected the board to the spark (v2) and this was the result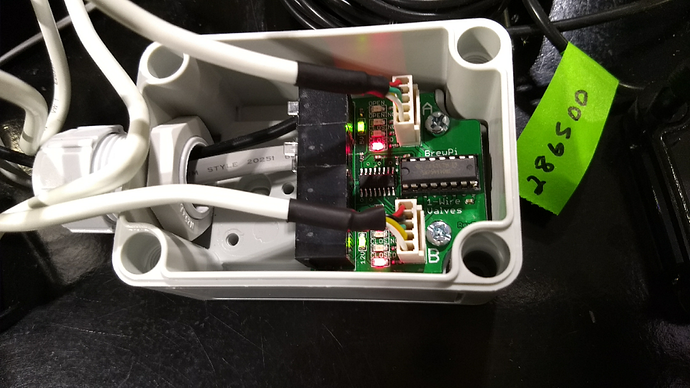 This tells me that power is coming through and the valves are connected and reading closed (which they are). All signs that indicate the previous board was defected.
I'm running into an issue when the rj 12 cord is connected to the spark along with other sensors. In the picture below I have the expansion board with 2 valve operators and a one wire temperature sensor connected. The expansion board is connected to the spark which also has 2 additional one wire temp sensors attached. The spark is connected to the RPI.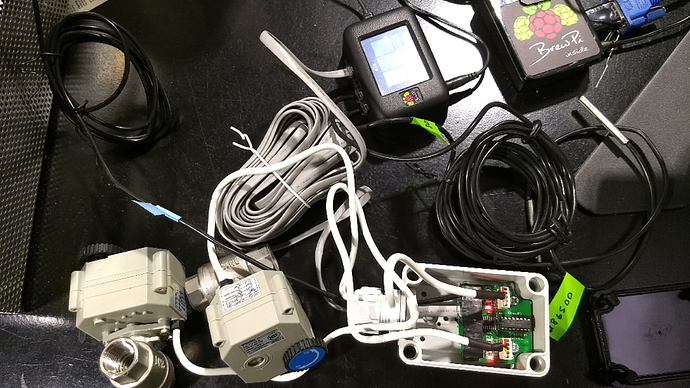 When the expansion board is connected two things happen:
The temp sensor connected to the spark stops recording data. This was confirmed by unplugging the extension board and refreshing the temperature graph on the front page of the GUI. A gap appears during the time the rj12 cord was connected.
In the device settings the temp sensor that is attached to the expansion board does not register. The temp sensor does register if it is connected directly to the spark.
There is a 12v power supply connected to the spark.
The valve controls also are not recognized, but reading previous post I'm not sure if the software can't support it yet or a power issue.https://community.brewpi.com/t/integration-of-ball-valve-board-into-the-control-algorithm/1979. Recognition of the temp sensor would at least tell me if the board's onewire is connected and working.
Any explanations or troubleshooting is greatly appreciated.
Hopefully if it's a simple fix we can explore how to get the valves up and running.
Fun learnings ahead!
Thanks,
Eric