Hi
I have run into some troubles after trying to installing a fresh Brewpi on docker.
I do not have much experience in RaspberryPi/programming/working with terminal, but the previous installation of Brewpi and Raspberry Pi went OK.
So what I have done:
Other things that I have tried:
Installing old Raspberry Jessie hoping that I was able to connect spark in DFU and run brewpi commands (some commands seems to be outdated because of the migration to docker?)
Flashing spark through windows
Reinstalling Hyperion thinking that some were wrong with the installation
I have managed to get the Brewpi in DFU but it can not be recogniced when using the guide and so I have not manage to flash new firmware on it:

when running flashDfu.py I get this, (Spark was flashing yellow DFU when I ran the command):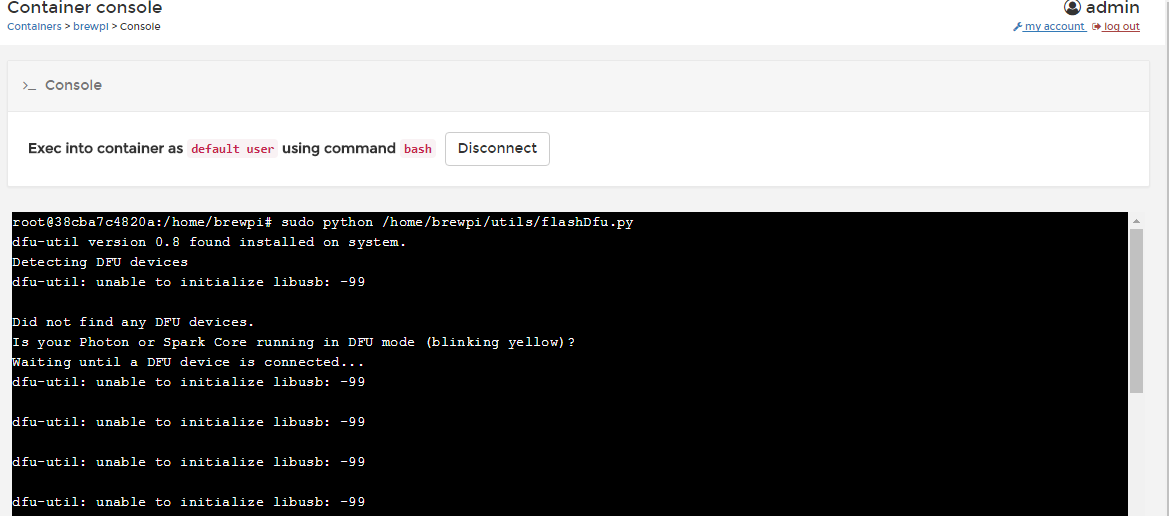 I think docker is running OK:


But when i press the Published Ports link it takes me to web page "
http://0.0.0.0:9000/
", and when I enter the IP adress directly 172.17.0.3:9000 it shows nothing/web page is not available.
So I am sitting here with a raspberry with a fresh installation of Hyperion, connected to WiFi, portainer is installed as the webpage above. I am really scratching my head over here and my IPA is fermenting on 16C!

All help is deeply appreciated. Thanks.