A feature that I would like to propose would be a widget, or an enhancement of the existing metrics widget that displayed statistics calculated from sensor readings within a defined period.
My use case:
My fermentation chamber was poorly thought out and is a bit under powered to consistently moderate vigorous fermentations at lager yeast temperatures. As a result, I like to keep an eye on the duty cycle (eg. period of function defined by fridge chamber sensor values) of the mini-fridge compressor and as well as the mean value and variation between highs and lows (eg. central tendency and amplitude of this function). If I see any of these characteristics suggesting that the system is overloaded, I may manually intervene by adding ice packs to the fridge chamber.
What I do currently:
I mouse over values from the fridge sensor in the recent activity graph (the purple line) and manually estimate the characteristics I'm interested in (and or just eyeball whether there is a problem).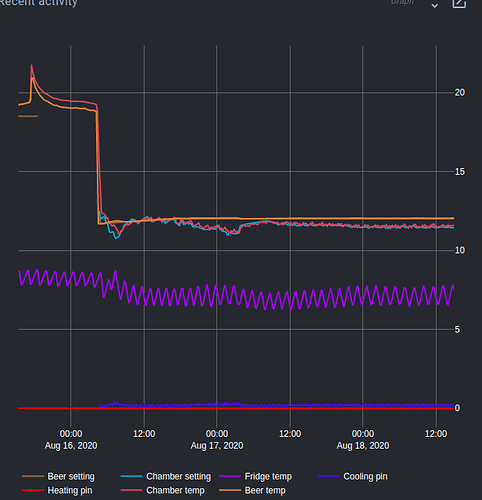 What I'd like to do:
Have a widget to calculate and display statistics calculated based on recent data from a database query. For example, one simple statistic might be the range (max-min) of fridge sensor values from the past 6 hours. A statistic for duty cycle may be a little more involved to calculate and display but would be useful. I'm imagining configuration being somewhat similar to how the logic actuator widget allows users to define their own conditions based on available parts. An extension would be to combine with a logic block to define alarms if these calculated statistics exceed certain parameters.