I'm running my first test of my fermentation chamber which is controlled by a spark 3. I started the test run around midnight and a little less than 9 hours later the pi loses contact with the spark and cannot reconnect.
 Jan 03 2018 08:56:33   Error: controller is not responding anymore. Exiting script.
 Jan 03 2018 08:57:04   Notification: Script started for beer 'Constant water (start: ~23C) test'
 Jan 03 2018 08:57:04   Connecting to controller...
 Jan 03 2018 08:57:04   Opening serial port
 Jan 03 2018 08:57:36   Errors while opening serial port:
Could not open port socket://192.168.86.32:6666: [Errno 113] No route to host

When I noticed the problem (around 10am) I checked my wifi router and saw that the spark was not connected. I went to look at the spark and it was running, appeared to be continuing to run the control algorithm and green LED was breathing (which I thought meant that the photo was connected to the Internet but not the cloud.
Restarting the brewpi spark made it reconnect to the wifi, and the pi was able to connect. Interestingly, after reconnecting it made a strange decision to lower the fridge setting briefly before reverting to the original trend a few minutes later.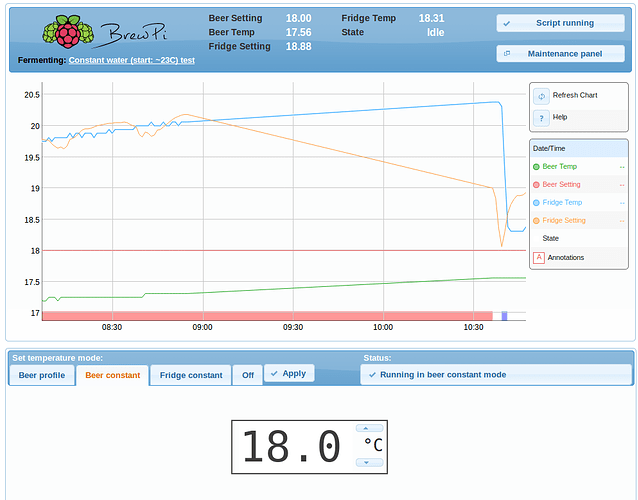 I have a few questions:
If this keeps happening, how can I collect sufficient information to debug the problem? (aka logs from spark 3)

How does the pi deal with logging outages, I notice that it correctly inferred that the heating remained on throughout the entire wifi outage despite the spark booting directly to an idle state (when it presumably sent the first new datapoint for logging).

Why the sudden change in fridge setting after the reboot? Was this a product of the spark (and thus the algorithm) rebooting, or a product of reconnecting to the pi for the first time in 90 minute?
Thanks in advance for any help or advice!
Best,
Austin